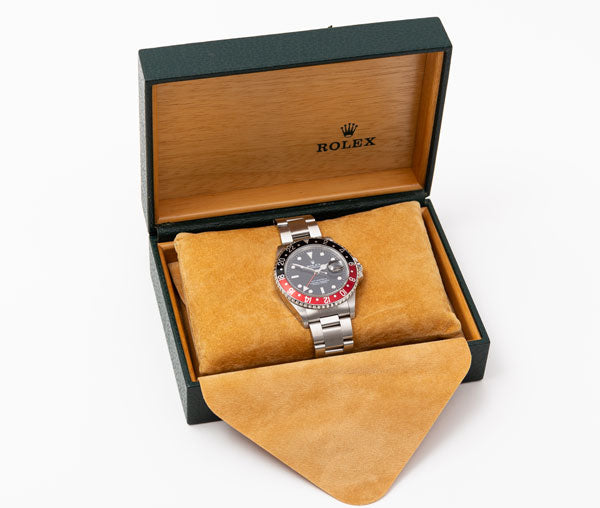 Your prestige watch as an asset
Status. Authority. Quiet power. 
Prestige watches represent all of the above.
That's why people covet prestige watches.
And because they're coveted, prestige watches are valuable assets. 
Do you own such a watch? 
Or perhaps a collection of luxury timepieces?
If you'd like to sell your watch or your entire collection, bring it to Fish Brothers! 
We're here to help you get the most out of your watch! 
How Fish Brothers can serve you
Whether you're selling a whole collection or just a one-off piece, Fish Brothers offers you market-leading expertise, competitive quotes, and quick payments.
Simply fill in our online form, and one of our advisors will send you our initial quote.
If you're happy with the price, you can either send us your items in the post or drop them off in-store.
We will inspect each piece you bring us with our customary professionalism and care.
Aside from the manufacture, we consider the following factors when assessing a prestige watch:
● We evaluate the watch brand and its standing among other luxury watch brands.
● We consider the quality of its materials. If these include diamonds, gold, platinum, or other precious metals.
● We consider the condition of the watch and whether there are any deep scratches, nicks, chips, or significant damage to the case. We also inspect other areas, including the glass and strap or bracelet.
● If you still have the watch's original box and paperwork.
● We also establish values based on current market selling prices. We look at prices achieved at reputable auction houses and other reputable second-hand watch retailers.

Once we've inspected your watch, we'll send you a final quote for you to approve, followed by a fast, secure bank transfer.
Would you like to trade in your old watch for a different style?
Fish Brothers offers part-exchange on all watch sales so that you can pick up a second-hand Swiss timepiece for less.
Please browse our extensive range of pre-owned watches for inspiration, with styles from Rolex, Omega, Breitling, Tudor, Cartier and TAG Heuer to choose from.
Every pre-owned luxury watch we sell goes through a thorough valuation and checks for authenticity. You can shop second-hand with confidence at Fish Brothers.
If you're interested in part-exchange, simply add the SKU of the watch you like when you fill in our online form.
Once you've approved your final quote, we'll send your new watch to you via free insured delivery.
Why you should bring your prestige watch to Fish Brothers

With 185 years of experience in the pawnbroking trade, Fish Brothers has established a reputation for professional, trustworthy, friendly and fair service.
• We abide by all FCA regulations and follow the Safe Sellers guidelines.
• We are members of the National Association of Pawnbrokers.
• We value your privacy. Secure private rooms are available at most branches, and we ensure discretion at all times.
• We ensure reliable and secure transportation of your items.
If you have any questions about selling or trading in your watch, please don't hesitate to get in touch. One of our team will be more than happy to help. 
You're welcome at Fish Brothers any time!